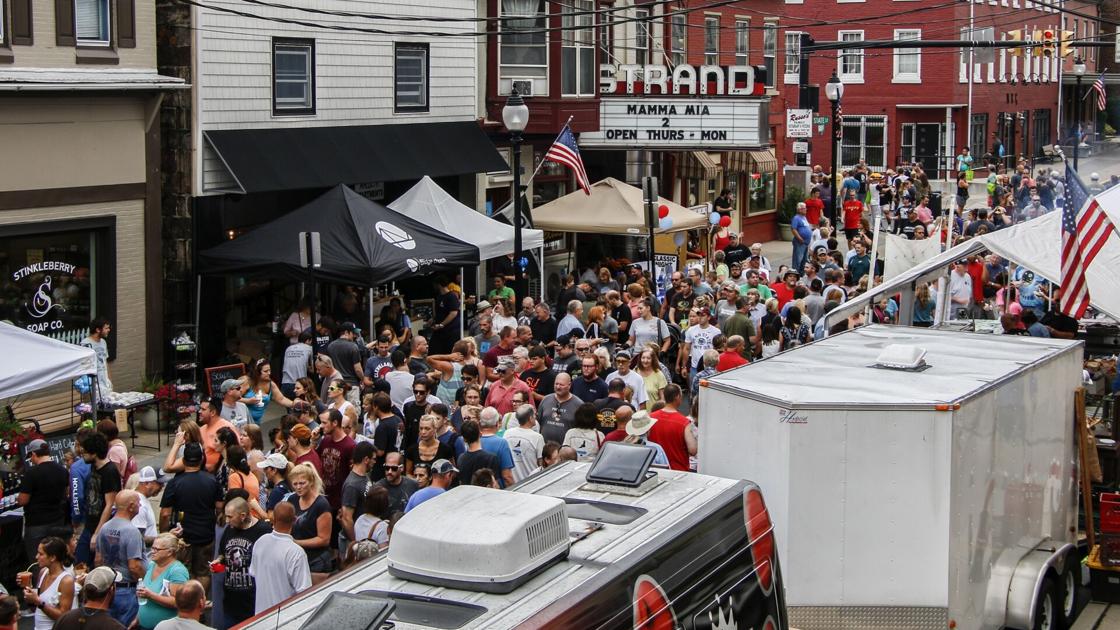 Things to do: Hamburg-er Festival returns to Hamburg | Features
After being canceled in 2020 due to COVID-19, one of the tastiest festivals in Berks County is back, and organizers have beefed up the festivities.
The 18th annual Taste of Hamburg-er Festival will return Saturday to downtown Hamburg with more than 30 hamburger stands, four stages of musical entertainment, contests, children's activities, more than 70 arts and crafts vendors, shopping in Hamburg's historic downtown, and more.
In 2019, the Taste of Hamburg-er Festival drew around 50,000 people from across the East Coast and beyond,
The event, which will run from 10 a.m. to 6 p.m., is a family-fun day celebrating America's favorite food — the hamburger.
The more-than-two-dozen burger stands will grill and serve creative and unique combinations of burgers, all competing for the best burger award.
There will be amateur and professional burger-eating competitions at 2:15 and 3:30 p.m.
On the sizzler stage at the Fourth and Pine municipal lot will be Howlin' Dawgs Blues Band at 10:30 a.m.; Freeway Jam at 12:45 p.m.; Pawnshop Bound at 3 p.m.; and Rockman Blues Band at 5:15 p.m.
On the slider stage at 61 North Third St. will be Brian Skurski at 10 a.m.; Glenn Miller, The Big One-Man Band at 11 a.m.; Tom Vollmer & Friends at noon; Dairy Princess at 1:30 p.m.; Days of Old at 1:45 p.m.; Marie, Your Reba Impersonator at 3 p.m.; and Dave Kline & The Mountain Folk Band at 4:30 p.m.
The savory stage at 222 State St. will feature The Undercoats at 10:15 a.m.; Cody Tyler & Gypsy Convoy at 12:30 p.m.; Girl Crue at 2:45 and 4 p.m.; and Six Times Nine at 5:15 p.m.
The skillet stage at 40 S. Fourth St. will feature Phyllis Sands at 10:15 a.m.; Olde 22 at 11:30 a.m.; Darin Jellison at 12:45 p.m.; Rebekah Zepp at 1:45 p.m.; Polynesian dancing by the Malulani Dancers at 2:45 p.m.; Kharizma Belly Dancers at 3:45 p.m.; Chip Stanilla at 4:15 p.m.; and John Bailey at 5:15 p.m.
The beer gardens will remain open until 7 p.m.
South Bethlehem's First Friday celebrates street mural
Join the SouthSide Arts District at 6 p.m. on Friday as it celebrates the new street mural, entitled Connected by Kindness, at Third and Adams streets in Bethlehem during First Friday.
Inspired by the story of David James, an Australian who went viral for handing flowers to complete strangers as an act of random kindness, the design features hands offering various flowers to passersby. The artists, Sarah Karess and Mounir Mulhem, said the mural is intended to remind the Bethlehem community to be kind to each other and to oneself.
The ribbon-cutting celebration will be at 6 p.m., followed by a reception at Color Me Mine, 25 E. Third St. with musical guest Not for Coltrane. In the event of inclement weather, the reception will be indoors at Color Me Mine.
The ribbon-cutting celebration will include a speech from Northampton County Executive Lamont McClure, Lehigh Valley Health Network President Bob Begliomini, Bethlehem Economic Development Corporation Director, Alicia Karner, as well as mural artists Sarah Karess and Mounir Mulhem. The reception will feature a video produced by Lehigh Valley Health Network, highlighting the journey of the street mural from concept, to working on the street, to the finished work.
The SouthSide Arts District, an initiative of the Bethlehem Economic Development Corporation, works to improve the economic conditions for the businesses of south Bethlehem. Its design committee works to do that through streetscape improvements projects, like public art.
The night will also include music from Keith Quelet and Friends from 7 to 9 p.m. at Dinky's Ice Cream Parlor & Grille and Chelsea Lyn Meyer from 8 to 10 p.m. at the new F&A Groghouse, as part of the First Friday celebration.
Reading's First Friday brings back art, music
Downtown Reading is bustling as the city brings back First Friday events with live art, regional musicians, beer gardens, gourmet food trucks, and local shopping along Penn Street on Friday.
In its fifth year, First Friday now features an expanded site and stage production.
First Friday is part of a more extensive series of events that will make downtown more vibrant, engaging, and attractive.
From 5 to 10 p.m., enjoy craft brews and drinks by the Reading Occasional Cocktail Club in the First Friday Downtown Beer Garden.
This year's beer garden features a broader spectrum of regional musicians and interactive art features and a different food truck each month.
First Friday will occur on the first Friday of every month from July through October. Supported by the Berks County Community Foundation, Meet Greater Reading, and the DoubleTree Hotel, these celebrations ensure to start everyone's weekend in a great mood.
The Great Allentown Fair returns
The Great Allentown Fair is back with what organizers are calling a "reboot to our roots" through Labor Day with outdoor concerts, rides, games, novelty attractions, food and a showcase of agricultural products from the region's farms, gardens and homes.
The fair is known as the unofficial end of summer, with three national artists concerts in the grandstand and the annual Labor Day tradition, the J&J Demolition Derby.
Tickets are available for Toby Keith, with special guests Matt Stell and Laine Hardy; Carrie Underwood, with special guest Dan Smalley; and AJR, with special guests lovelytheband and Daisy the Great.
Tickets for the shows range from $30-$119. The J & J Demolition Derby is $15 and $10 for kids 12 and under.
The Farmerama Theater hosts Puppy Pals, in which dogs perform spectacular stunts and breathtaking feats, as seen on NBC's "America's Got Talent."
The popular Robinson's Pig Paddling Porkers are back to race around the turf track and dive into their pool at Machinery Avenue Court.
A highlight is the more than 900 farm animals, including cows, pigs, sheep, goats, chickens, rabbits and more.
Kids can experience farm life playing at the Lil' Farm Hands activity tent, visiting the 4-H petting zoo, decorating pumpkins at the Centennial Stage, participating in the pedal push tractor pull and other fun activities.
Other attractions include the world-famous "Flying Wallenda" family high-wire show; ZuZu Acrobats pyramid building, limbo, contortion, balancing and tower of chairs; The One Wheel Wonder extreme unicycling and musical performances.
The fair's Farm to Table series of chef demonstrations and culinary tips features more kitchen masters than ever before sharing their secrets. Demonstrations go on every day of the fair.
Local chefs go head-to-head when competing in the iron chef competition, an intense three-day event.
At the gate, admission is $8 for adults and free for ages 12 and under. Advance tickets at the fair box office and online are $4.
Boyertown hosts Duryea Day 2021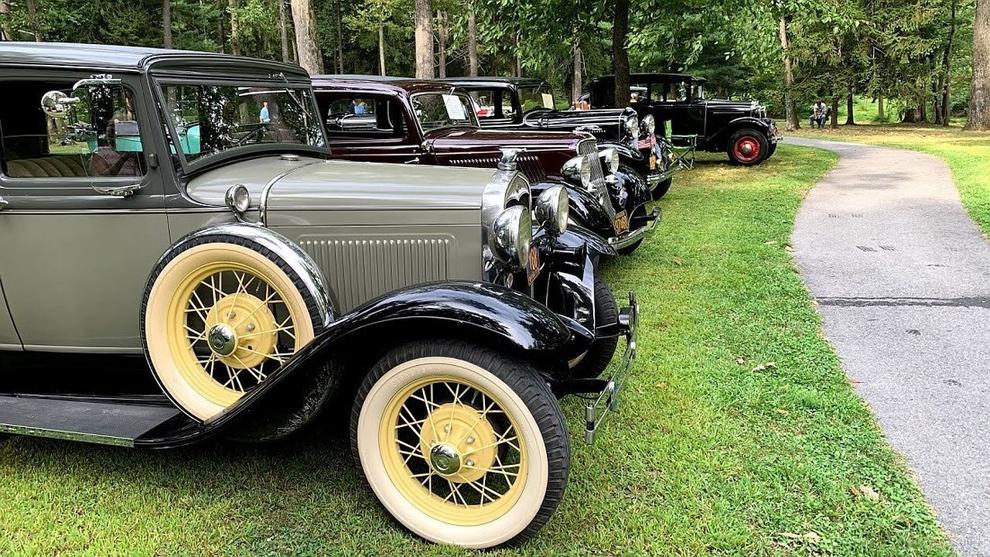 The Boyertown Museum of Historic Vehicles, along with the Pottstown region of the Antique Automobile Club of America, will be hosting the 55th annual Duryea Day Antique & Classic Car & Truck Show and Flea Market on Saturday in Boyertown Community Park.
For more than 50 years, Duryea Day has earned its reputation as a family-friendly event in Berks County.
From 9 a.m. to 2 p.m., vehicles will compete for trophies in categories that include antique pre-war, antique post-war, antique motorcycle, antique truck – pickup, antique truck – commercial, street machine, street rod and sports car.
Duryea Day benefits the museum and helps it to continue its mission of collecting, preserving, and exhibiting Pennsylvania's transportation heritage. The museum, like Duryea Day, began in 1965 and continues to tell the state's industrial, cultural, and technological history through the lens of road transportation.
Duryea Day food vendors include CD's Place Catering & Eatery, Moyer's Catering, Mister Softee, and Kosmic Kettle Corn. Stirrups Mobile Bar Co. will be serving up beverages.
Boyertown Community Park is at 450 Madison St.
Bring train robbers to justice on WK&S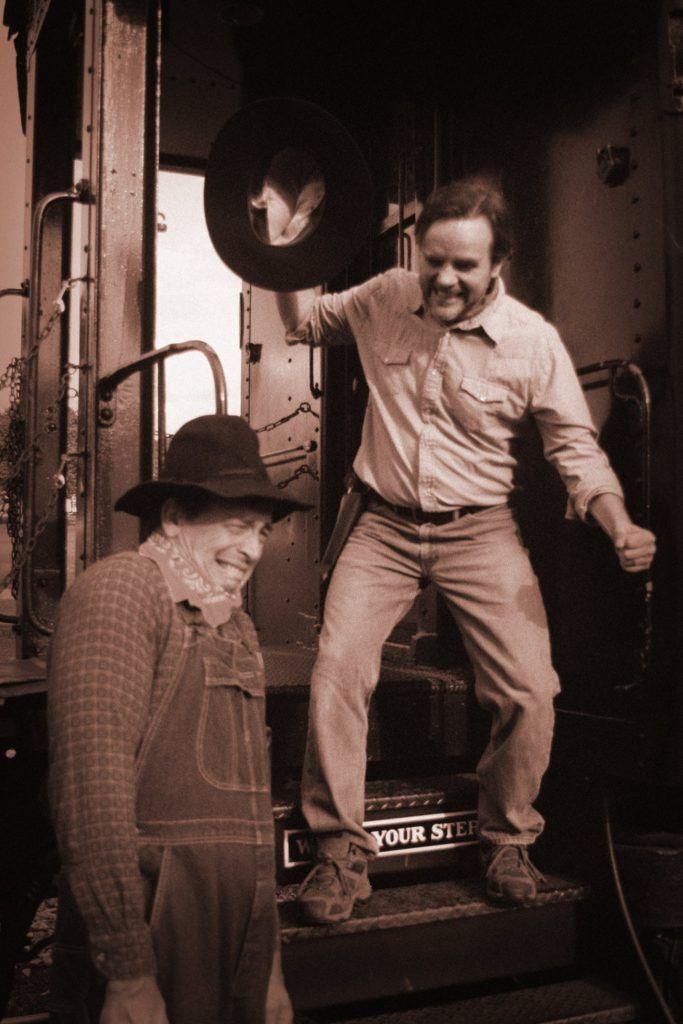 Join the Wanamaker Kempton and Southern Railroad for The Great Train Robbery on Friday and Saturday.
The interactive train ride leaves the Kempton train yard at 6:30 p.m. both days for the 90-minute adventure.
The notorious Soggy Bottom Britches Gang is looking to find some easy cash by robbing the Berksy Flier. Will it get away with the loot, or will its efforts be foiled by rich railroad baron Winston Keegan Smithwick III, in this immersive comedy show and train trip. Ride along as the gang robs the train, and join in the fun as the adventure unfolds.
The WK&S snack bar will be open prior to the performance.
Reservations are required, and tickets are $25 per person.
WK&S Railroad is at 42 Community Center Dr. in Albany Township.

https://www.wfmz.com/features/out-and-about/things-to-do-hamburg-er-festival-returns-to-hamburg/article_4dab1c8a-0c20-11ec-99c1-bb68345aec09.html