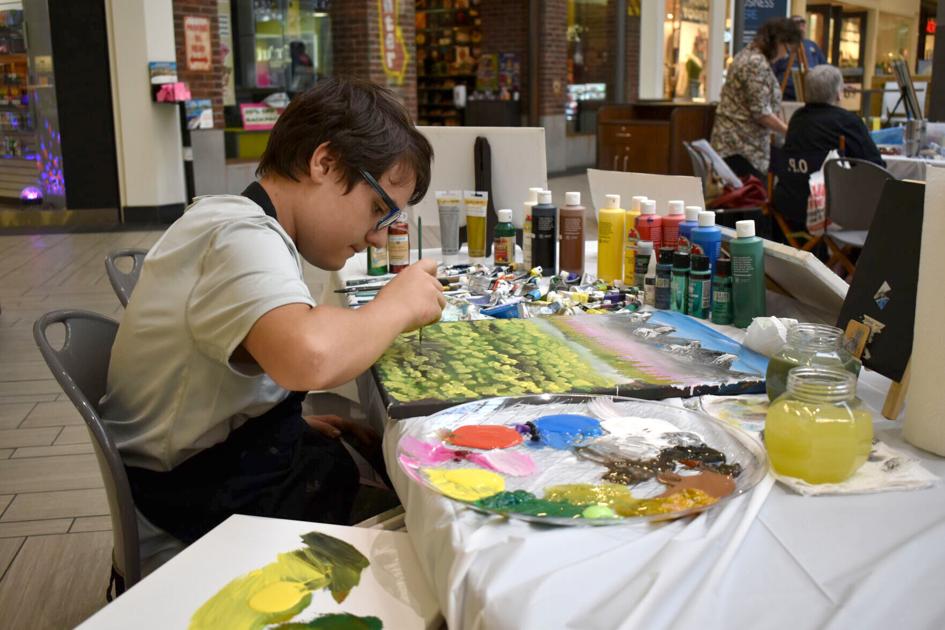 Local artists paint live at Longview Mall event | Local News
Louis Wolfe gathered paint on a wide brush, dipping into blue and white acrylic from the palette. He quickly swiped the brush diagonally across his canvas, creating his landscape art work live during the Canvas Project event Saturday at Longview Mall.
The strokes quickly gave dimension to the snow-capped mountains he was painting, inspired by Bob Ross' painting style.
"I love art," said Louis, 14, of Longview. His mother, Jessica Mires, said she is his biggest fan.
The Canvas Project aimed to highlight local artists as they created pieces at tables set up throughout the mall. It also allowed young artists to gain exposure, like Wolfe and 13-year-old Taylor Vaughn.
The event is part of a nationwide initiative presented by the Longview Mall's parent company, Washington Prime Group. The goal is to bring artistic experiences to communities.
A variety of artists set up at Saturday's event with mediums such as pour painting, pop art and wood working to using watercolor, painting rocks and even painting cicada shells.
Logan Moore, 24, worked on a large mixed media painting of hot air balloons. One side of the table was taken up with paintings of leaves, insects and more. On the other side, Moore had painted cicada shells.
"Cicadas are my favorite insect because they signal to me that summer is here," she said, adding that she finds them fascinating. "When they die, they're everywhere, and I liked collecting the shells. I just found a way to turn them into art."
One of her larger pieces was done with a rainbow of colors on a black background to make the colors pop and included dozens of painted cicada shells.
Ashely Duke-Matthews also takes her inspiration from nature, focusing on pop art acrylic paintings of animals.
"I've never painted live before," she said, adding that she traveled from Texarkana for the event.
She worked on a larger painting of a cow during the event with a bright background.
"I love cows," Duke-Matthews said. "I'm a big animal lover."
She named her painting business that she runs as as stay-at-home mom Cuddles & Creativity, often working on commissions and painting for Chewy.com.
Longview artist Dana Huber worked from a blank canvas at the event.
"I haven't been in the middle of any major projects," she said. "Right now, I'm just working on getting color on the canvas."
Some of the other artists participating in the event were Austin Albert, Adrien Huens, Ashley Davis, LaQuita Vaughn, Sarah Bell, Ashley Duke Matthews, Stephanie Clark, Rebekah Wilburn, Caitlin Golden, Sterling Crelia, Kelly Price, Jeska Lee and Bridget Martin.
https://www.news-journal.com/news/local/local-artists-paint-live-at-longview-mall-event/article_378dea3a-0db1-11ec-b611-8b0434e673f4.html