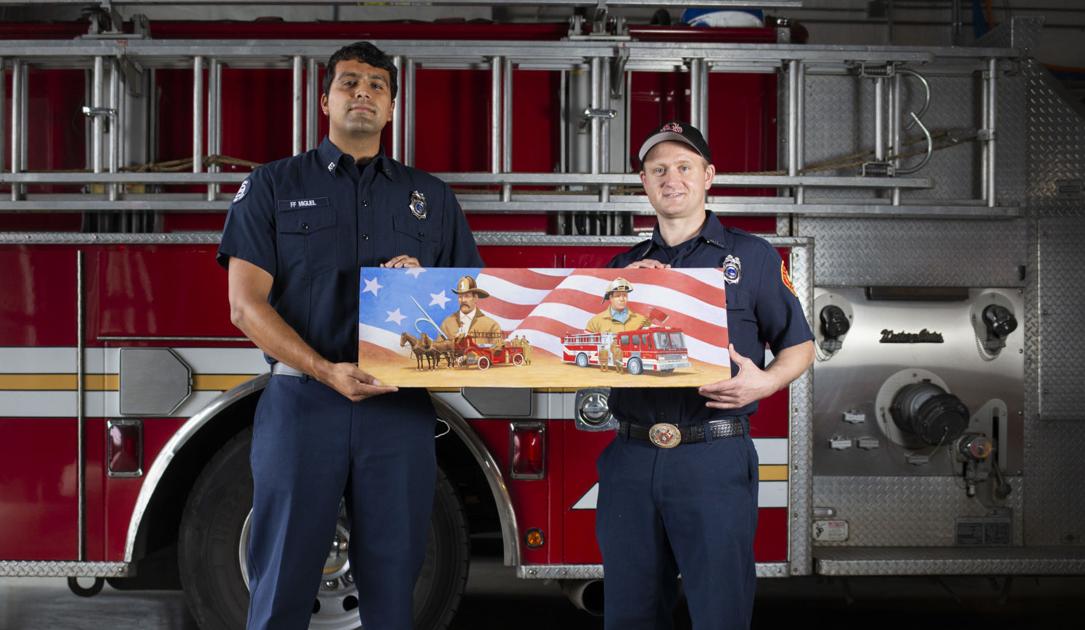 9/11 prompted Montana artist to return home to paint Sunnyside Fire Department mural | Local
About a week after planes crashed into the World Trade Center on Sept. 11, 2001, Gary Kerby began working from his Montana home on a mural that would honor firefighters in Sunnyside.
He said then-Battalion Chief Aaron Markham asked him to paint the mural to help the community heal from the devastating terrorist attack and honor firefighters for the risks they take.
"When he asked me if I was willing, I said 'you bet, yeah, I'll be on it tomorrow,' " Kerby said. "I dropped everything I was doing and started sketching. About a week later, I was out there beginning to paint."
A 12-by-36-foot mural depicting horse-drawn apparatus from the early 1900s to modern equipment of today was painted on wood panels and fastened to the north wall of the Sunnyside Fire Department, which also houses an office of Yakima County Fire District 5.
Kerby said he decided on a theme showing Sunnyside's history rather than duplicating New York.
"I just wanted to pay tribute to all firefighters for what they do," he said. "They're all putting their lives at risk."
Markham recalls the inception of the mural differently.
"We probably remember it differently," Markham said. "I think it was his idea. He wanted to do something for the fire service."
Markham and Kerby were longtime friends — they grew up together in Toppenish.
Markham said Fire District 5 and city officials embraced the idea of such a mural.
"They didn't have any problems with it," he recalled. "They thought it was a great idea."
Fastrack
Kerby said he completed that mural faster than any of the more than 50 he's painted so far in his lifetime. He began on Sept. 20, 2001, and finished a month later, Oct. 20.
"It was a short amount of time; I wish I would have written all this stuff down back then, what the timeline was," he said.
Typically, the initial sketch is completed over a month's time, then another month passes as the original painting is completed finally painting on the wall begins — about a three-month process in all.
"We did all of this within a month — bang, bang, bang, and it was done," Kerby said.
Where's the mural now?
Today the mural — which was painted on 20 sheets of plywood — is gone from the wall. It was placed in storage about seven years ago when the building was remodeled, said current Battalion Chief Tony Castillo.
A smaller version of the mural still hangs in the Fire Chief's office, he said.
"It's a beautiful mural," he said.
Years ago, the mural was vandalized but Kerby returned to fix it, Castillo said.
"He put it back in its original glory," Castillo said.
Soon, the large mural will be pulled from storage, reassembled, and hung on an interior wall of the department, he said.
"It will be protected from the elements," Castillo said. "It will be there long after we're gone."
https://www.yakimaherald.com/news/local/9-11-prompted-montana-artist-to-return-home-to-paint-sunnyside-fire-department-mural/article_f9f2f41f-3465-50c6-b01b-76a2138fb820.html